VS.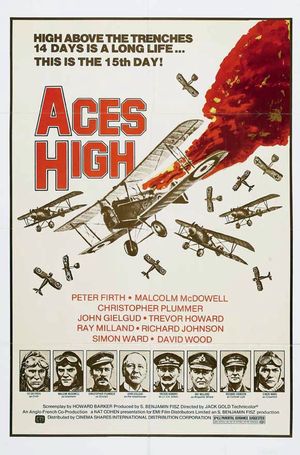 "Who's next? We're all next." "I'm just a technician, I change things. Put a plane in front of me with a man in it – I'll change him into a wreck and a corpse." Gag! The dialogue in "Von Richthofen and Brown" is pious and stilted. It is B-movieish.

D
The dialogue in "Aces High" is above average. This is partly due to it being based on a play. The dialogue is stereotyped like the characters. The cynical veteran speaks cynically. The naïve newbie speaks naively. The cowardly craven whines. None of it is cringe-inducing, however. It is effective.

B
Von Richthofen and Brown 6
VR&B has some fine acrobatics and flight cinematography. The images tend to be a bit repetitive with guns firing, pilot's faces, and smoke coming out of crippled planes. The sound effects don't keep pace with the visuals. Director Corman used a helicopter and small plane to get the shots along with cameras placed on the war planes. The main actors were able to do rudimentary flying and the facial shots were done with them in the rear seat instead of in front of a screen.

B
Neither film uses CGI. The sound and visual effects in "Aces High" are very good. There's an excellent stunt scene where the main character stands up to change his machine gun drum. The flak is realistic, if too accurate (like every other air combat movie).

A
Von Richthofen and Brown 14
Corman bought the "Blue Max" air fleet. This included replicas of Pfalz D.IIIs, S.E. 5s, Fokker D.VIIs, and Fokker Dr.Is. Tiger Moths and Stampe SV4Cs were converted to look like WWI era war planes. The movie uses a total of twelve flyable aircraft. The quantity is awesome.

A+
"Aces High" uses three air-worthy Stampes to portray the S.E.5s. To play the German planes, they used a Tiger Moth and a Finnish Viima II painted red for the Germans.

C
Von Richthofen and Brown 24
FOURTH QUARTER: Dogfighting
There is certainly a lot of combat in VR&B. Ex-RCAF pilot Lynn Garrison coordinated the dogfighting sequences. Stunt pilots were used for the quality acrobatics. What the planes do is real, not CGI. Unfortunately, the final duel is a fizzle with the Red Baron doing a ridiculous inside turn which puts the vastly inferior Brown on his tail.

B
"Aces High" deserves credit for showing a variety of air combat. Besides the usual dueling, there is a photo recon mission. There is a mission to take out an observation balloon that features the observer parachuting.

A
Von Richthofen and Brown 32
These are two underrated movies who have taken a beating from mainstream critics. VR&B is superior in dogfighting, but AH is better overall. It does not have the cheesy plot and dialogue. It also tries to make a statement about the tragedy of the war. I am glad that VR&B made it this far. I admire Corman for making the movie. Not because it is an accurate telling of Von Richthofen's death. It isn't. But effort was put into the depiction of combat and Corman did not make it as though it was aimed at drive-in movie screens.